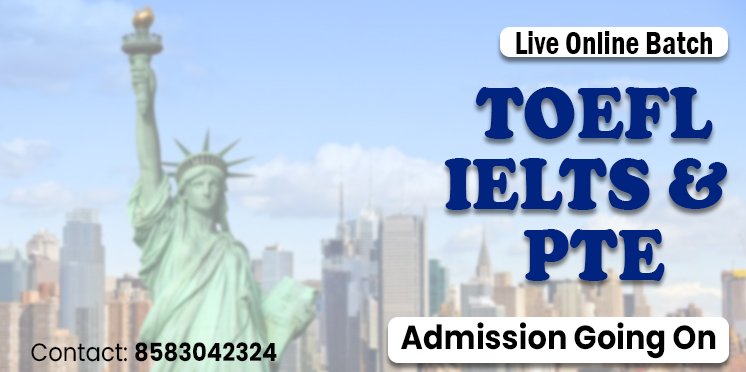 WHAT IS IELTS?
Established in 1989, the International English Language Testing System (IELTS) is a globally recognized standardized test for assessing the English language proficiency of non-native speakers. It is jointly administered by Cambridge English Language Assessment, the British Council, and IDP Education Pvt Ltd. Alongside the TOEFL, IELTS stands as one of the primary English-language tests worldwide.
The IELTS is available in two versions: the Academic Version and the General Training Version.
The Academic Version caters to individuals seeking admission to universities and higher education institutions. It is also suitable for professionals, including medical doctors and nurses, who aspire to study or practice in English-speaking countries.
On the other hand, the General Training Version is designed for individuals planning to pursue non-academic training, gain work experience, or fulfill immigration requirements.
IELTS is widely accepted by numerous academic institutions in Australia, the United Kingdom, Canada, Ireland, New Zealand, and South Africa. In the United States, it is recognized by over 3,000 academic institutions, and it is also accepted by various professional organizations globally. Additionally, IELTS is a mandatory requirement for immigration to Australia and New Zealand. In Canada, the immigration authority accepts IELTS, TEF, or CELPIP as language proficiency tests.
There is no predetermined passing score for the IELTS test. Upon completion, candidates receive an IELTS result or Test Report Form, indicating a score ranging from "band 1" (denoting a "non-user") to "band 9" (indicating an "expert user"). However, individual institutions establish their own score thresholds. A score of "band 0" is assigned to candidates who did not attempt the test. It is recommended that institutions consider a report to be valid for up to two years unless the user can demonstrate ongoing efforts to maintain their language proficiency level.
Each of the four main papers in the test receives an individual score on a scale of 1-36, and a Composite score is calculated by taking the whole number average of these four scores. While the SAT is favored on the East and West coasts of the United States, the ACT is traditionally more prevalent in the Midwestern, Rocky Mountain, and Southern regions. However, there has been a recent shift towards increased usage of the ACT on the East Coast.
STRUCTURE OF IELTS?
To receive a band score, all candidates are required to complete four Modules: Listening, Reading, Writing, and Speaking. The band score is reflected on the IELTS Test Report Form (TRF). The Listening and Speaking Modules are standardized for all candidates, while the Reading and Writing Modules vary based on whether the candidate is taking the Academic or General Training Versions of the Test. The overall test duration for the Listening, Reading, and Writing modules is approximately 2 hours and 45 minutes.
HOW IS IELTS SCORED?
IELTS adopts a nine-band scale to score test takers, aligning each band with a specific level of English proficiency. Overall Band Scores are reported to the nearest half band, with a rounding convention in place. If the average across the four skills concludes with .25, it is rounded up to the next half band. Similarly, if it concludes with .75, it is rounded up to the next whole band.
THE NINE BANDS ARE AS FOLLOWS:
9 Expert User: Demonstrates complete operational command of the language, using it accurately, fluently, and appropriately with full comprehension.
8 Very Good User: Exhibits full operational command of the language with occasional unsystematic inaccuracies and inappropriacies. May encounter misunderstandings in unfamiliar situations but handles complex detailed arguments effectively.
7 Good User: Displays operational command of the language with occasional inaccuracies, inappropriateness, and misunderstandings in some contexts. Generally handles complex language well and comprehends detailed reasoning.
6 Competent User: Possesses generally effective command of the language despite some inaccuracies, inappropriacies, and misunderstandings. Can use and understand fairly complex language, especially in familiar situations.
5 Modest User: Demonstrates partial command of the language, managing overall meaning in most situations but likely to make numerous mistakes. Should be capable of basic communication within their field.
4 Limited User: Exhibits limited competence, primarily in familiar situations. Experiences frequent difficulties when using complex language.
3 Extremely Limited User: Conveys and comprehends only general meaning in very familiar situations.
2 Intermittent User: Unable to engage in real communication, except for basic information using isolated words or simple phrases in familiar situations and immediate needs.
1 Non User: Essentially lacks the ability to use the language beyond a few isolated words.
0 Did not attempt the test: No assessable information provided.
WHAT IS TOEFL?
TOEFL, which stands for Test of English as a Foreign Language, is a standardized exam designed for non-native English speakers who wish to pursue studies in U.S. universities. It is widely accepted by numerous academic and professional institutions worldwide. Alongside the IELTS, TOEFL is recognized as one of the primary English-language tests globally.
The TOEFL is administered by ETS (Educational Testing Service), a private non-profit organization responsible for test design and administration. Test scores remain valid for a period of two years, after which they are no longer reported.
STRUCTURE OF TOEFL?
Internet-based test (iBT)
Since its inception in late 2005, the TOEFL Internet-based Test (iBT) format has progressively replaced the computer-based tests (CBT) and paper-based tests (PBT), although select areas still utilize paper-based testing. The introduction of the TOEFL iBT test occurred in stages, starting with the United States, Canada, France, Germany, and Italy in 2005, followed by the rest of the world in 2006, with additional test centers being regularly added. The computer-based testing (CBT) was discontinued in September 2006, rendering those scores invalid.
Initially, the demand for test seats exceeded availability, leading to lengthy waiting periods for candidates. However, in most countries, it is now possible to schedule the test within a timeframe of one to four weeks. The four-hour test comprises four sections, each assessing one of the fundamental language skills (with some tasks requiring the integration of multiple skills), all focused on language usage within an academic, higher-education setting. Taking notes is permitted during the TOEFL iBT test. Test-takers are not allowed to retake the test within a 12-day period.
READING
The Reading section of the TOEFL iBT test consists of questions based on 4–6 passages, each approximately 700 words long. These passages cover academic topics, resembling the type of material typically found in undergraduate university textbooks. They require an understanding of rhetorical functions, including cause-effect relationships, comparisons, contrasts, and argumentation. Students are required to answer questions related to main ideas, details, inferences, essential information, sentence insertion, vocabulary, rhetorical purpose, and overall concepts. Additionally, the TOEFL iBT test includes new question types that involve completing tables or summaries. It is not necessary to possess prior knowledge of the subject matter being discussed to arrive at the correct answer.
LISTENING
The Listening section of the TOEFL iBT test comprises questions based on six passages, each lasting 3–5 minutes. These passages encompass two student conversations and four academic lectures or discussions. The conversations involve interactions between a student and either a professor or a campus service provider. The lectures represent self-contained segments of academic lectures, which may involve student participation and do not assume specialized background knowledge in the subject area. Each conversation and lecture passage is played only once. Test-takers are permitted to take notes while listening and may refer to their notes when answering the questions. Each conversation is accompanied by five questions, while each lecture has six questions. The questions aim to assess the ability to comprehend main ideas, important details, implications, relationships between ideas, organization of information, speaker purpose, and speaker attitude.
SPEAKING
The Speaking section of the TOEFL iBT test consists of six tasks: two independent and four integrated. In the two independent tasks, test-takers respond to opinion questions on familiar topics. Their ability to speak spontaneously and express their ideas clearly and coherently is assessed. In two of the integrated tasks, test-takers read a brief passage and listen to an academic lecture or a conversation about campus life. They then answer a question by integrating relevant information from both the text and the audio. In the remaining two integrated tasks, test-takers listen to an academic lecture or a conversation and respond to a question based on the information they heard. In the integrated tasks, test-takers are evaluated on their ability to effectively synthesize and convey information from the reading and listening materials. During the tasks, test-takers are allowed to take notes while reading and listening, which they can use to aid their responses. A short preparation time is given before test-takers begin speaking. Their responses are digitally recorded, transmitted to ETS's Online Scoring Network (OSN), and evaluated by three to six raters.
WRITING
The Writing section of the TOEFL iBT test assesses a test taker's ability to write in an academic context and includes two tasks: one integrated and one independent. In the integrated task, test-takers read an academic passage and listen to a speaker discussing the same topic. They are then required to write a summary highlighting the key points from the listening passage and explaining how they relate to the main points in the reading passage. In the independent task, test-takers are prompted to write an essay expressing their opinion or choice and providing an explanation, rather than simply listing personal preferences or choices. The responses are sent to the ETS Online Scoring Network (OSN) and evaluated by a minimum of three different raters.
TASK DESCRIPTION APPROXIMATE TIME
Reading There are 3–5 passages, with each passage followed by 12–14 questions 60–100 minutes
Listening There are 6–9 passages, with each passage followed by 5–6 questions 60–90 minutes Break A 10-minute break is provided
Speaking There are 6 tasks in total 20 minutes
Writing There are 2 tasks in total 50 minutes
Paper-Based-Test (PBT)
The availability of the TOEFL paper-based Test is limited to certain areas. Test scores remain valid for a period of two years from the test date, allowing test takers to send their scores to institutions or agencies within that timeframe.
LISTENING (30-40 MINUTES)
The Listening section is divided into three parts, with the first part consisting of 30 questions related to short conversations, followed by the second part that includes 8 questions about longer conversations. The final part assesses the test takers' understanding through 12 questions about lectures or talks.
STRUCTURE AND WRITTEN EXPRESSION (25 MINUTES)
The Structure and Written Expression section consists of 15 exercises that require completing sentences correctly and an additional 25 exercises that focus on identifying errors.
READING COMPREHENSION (55 MINUTES)
The Reading Comprehension section consists of 50 questions that pertain to reading passages.
WRITING (30 MINUTES)
The TOEFL PBT administrations include the Test of Written English (TWE), which consists of one essay question with an average word count of 250–300 words.
WHAT IS PTE?
Pearson Test of English (PTE) is an online test that assesses both writing and speaking skills. The acceptance and recognition of PTE scores by educational institutions are steadily growing, and certain governments (Australia, New Zealand) now also acknowledge PTE results for visa applications.
IELTS vs TOEFL vs PTE PATTERN
The IELTS exam consists of four sections: Listening, Reading, Writing, and Speaking. Candidates are given a total of 2 hours and 45 minutes to complete the test. The Academic version of the IELTS follows the following exam pattern-
BASIS IELTS TOEFL PTE
Popular in: Uk, Europe, Australia USA, Canada, Europe Australia, USA, Canada
Duration: 2hrs & 45 mins 3hr 3hr
Total score: 0-9 bands 0-120 10-90
Fees: Approx $215 Approx $185 Approx $183
IELTS vs TOEFL vs PTE SCORING
The main distinction between IELTS and PTE lies in their scoring systems. TOEFL scores are relatively straightforward, with each section being worth 30 points, resulting in a total score of 120.
In contrast, both PTE and IELTS provide overall scores for the entire test, encompassing all sections.
In IELTS, the scores are measured on a scale of 1-9 bands, with a score of 7 or higher considered good. On the other hand, PTE yields scores ranging from 0 to 90, and achieving a score of at least 65 is regarded as good.
Although there is no direct conversion between the two exams, when comparing PTE and IELTS scores, it is generally accepted that scoring 7 bands in IELTS is equivalent to obtaining 65 in PTE. Similarly, achieving 9 bands in IELTS is seen as comparable to scoring 86 or above in PTE.
IELTS vs TOEFL vs PTE READING
IELTS
The reading section of the exam consists of three passages, totaling 40 questions, which are further divided into various tasks. Test takers are allotted 60 minutes to complete this paper. The tasks encompass a range of question types, including multiple-choice, matching information, diagram labeling, and true or false questions. The specific distribution of questions across tasks may vary.
TOEFL
The reading section of the test includes 3-4 passages that focus on multiple aspects such as compare/contrast and cause-effect. Each passage is accompanied by 10 questions. The duration of this section can range from 54 to 72 minutes, depending on the number of passages provided in the test. Scores for this section range from 0 to 30.
PTE
This section in PTE is allocated a time frame of 32 to 40 minutes. Test-takers are required to read passages and complete tasks such as filling in the blanks, re-ordering paragraphs, and answering single-answer multiple-choice questions.
IELTS vs TOEFL vs PTE LISTENING
IELTS
The listening section of the test comprises 4 different tasks with a total of 40 questions, to be completed within a time limit of 30 minutes. Test-takers will listen to 4 recordings, each featuring various voices with native-speaker accents. The recordings can include one-on-one conversations or monologues on different topics. The questions in this section cover a range of formats, such as multiple-choice, matching, map or diagram labeling, form completion, note completion, summary completion, and short answers.
TOEFL
This section consists of 3 to 4 lectures, including some lectures with accompanying classroom discussions. Each lecture has a duration of approximately 3-5 minutes and is followed by 6 questions. Additionally, there are 2-3 conversations related to everyday life, each lasting 3 minutes, with 5 questions following each conversation. The accents used in the listening portion represent native speakers from various regions across North America.
PTE
The listening section of PTE can vary in duration, ranging from 45 to 57 minutes. During this section, you will engage in tasks such as summarizing written text, filling in blanks, selecting missing words, highlighting incorrect phrases, and writing based on dictation. The pattern of this section differs significantly from that of the other two tests.
IELTS vs TOEFL vs PTE SPEAKING
IELTS
The speaking test in involves an interview with the examiner, lasting approximately 11-14 minutes. The test comprises three tasks. Task one typically involves an introduction or an interview, during which the examiner asks the candidate for a personal introduction, and this interview can last around 4-5 minutes. In the second task, the candidate receives a task card with a specific topic to speak about. They are given 1 minute to take notes and 1-2 minutes to speak on the given topic. At the end of the 2 minutes, the examiner may ask a few questions related to the topic. Task three builds upon the previous task, delving into the topic in a more abstract and detailed manner. This task can span around 4-5 minutes. In some cases, the speaking test may be conducted on a separate day.
TOEFL
In the speaking section of the test, there are four tasks. One of these tasks requires you to provide an independent response expressing your opinion on a familiar topic. You will have 30 seconds to prepare your response. Additionally, there are three integrated speaking tasks that are based on reading and listening. For these tasks, you will have 1 minute to prepare your response. The total duration allocated for this section is 17 minutes. Your performance in this section will be scored on a scale of 0-4 points, which will then be converted to a scale of 0 to 30. An example of a speaking section can be found here. The example is 11 seconds long, and you will have 45 seconds to respond.
PTE
Since the Speaking and Writing sections of PTE are integrated, let's discuss them together in the following section.
IELTS vs TOEFL vs PTE WRITING
IELTS
The writing test in PTE is divided into two sections, and the total duration of the test is 60 minutes. In section one, candidates are presented with different types of visual information such as graphs or pie diagrams. They are required to provide a detailed explanation of the visual information using precisely 150 words. Section two involves writing an essay on a given topic, where candidates need to elaborate on an argument or topic within the word limit of 250 words.
TOEFL
In the writing section of the test, you will be given two tasks to complete.
Task 1: An integrated task that requires you to analyze information from both a reading passage and a listening passage. You will have 20 minutes to complete this task.
Task 2: An independent task where you need to express and support your opinion on a given topic. You will have 30 minutes to complete this task.
The total duration allocated for this section is 50 minutes, and your score will be on a scale of 0 to 5, which will then be converted to a score range of 0 to 30.
PTE
The speaking and writing sections of PTE have a duration of approximately 77 to 93 minutes. The test begins with a personal introduction, followed by tasks such as reading aloud, sentence repetition, lecture retelling, answering short questions, and concluding with a 20-minute essay writing task consisting of 200-300 words.
MAJOR DIFFERENCES BETWEEN IETLS, TOEFL, AND PTE
The key difference among IELTS, TOEFL, and PTE lies in the evaluation of the speaking component. By now, you might have noticed several subtle yet significant distinctions between these exams. Let's highlight them:
TOEFL is exclusively computer-based, while IELTS is available in both paper and computer formats. If you prefer a paper-based exam, IELTS is an option, whereas PTE is entirely computerized.
The speaking section varies across the three exams. In IELTS, it involves a personal interview, whereas in TOEFL and PTE, you interact with a computer during the online test.
TOEFL and PTE are conducted in standard American English. If you have been exposed to English movies and sitcoms, these exams might be suitable for you.
The TOEFL writing section requires longer essays and demands fast typing skills. In contrast, PTE offers a more accessible essay writing experience, allowing for slower typists with legible handwriting.
IELTS includes short answer questions, whereas TOEFL focuses on multiple-choice questions. PTE combines elements of both question types.
TOEFL reading passages primarily aim to inform rather than entertain. If you enjoy reading non-fiction and news articles, you may find this exam easier to navigate.
IELTS vs TOEFL vs PTE: WHICH IS MORE WIDELY ACCEPTED?
Determining the exact level of acceptance for IELTS, TOEFL, and PTE worldwide is challenging due to their wide recognition by numerous institutions. However, the preference for these exams varies in different countries based on the English proficiency requirements set by educational institutions.
For example, institutes in the US commonly use TOEFL to evaluate the language skills of international applicants. In contrast, IELTS is often preferred by institutes in the UK, Australia, Canada, and Germany. Additionally, PTE is favored by institutes in Australia and Europe. Therefore, the choice of which exam to take largely depends on the country and institution to which you are applying.
FINAL SAY – IELTS vs TOEFL vs PTE WHICH IS EASIER
All the essential information comparing IELTS, TOEFL, and PTE has been provided to you. Ultimately, the decision of which test is the easiest depends on your personal preferences and strengths. Consider your specific requirements and determine which exam aligns better with your abilities.
If you excel in academic reading, feel comfortable with online interviews, prefer multiple-choice questions, and typing over handwriting, TOEFL may be the ideal choice for you. On the other hand, if you value receiving results quickly and prefer writing shorter essays, PTE might be the suitable option.
However, if you believe you would perform better in face-to-face interviews and prefer providing short answers rather than attempting multiple-choice questions, IELTS is the recommended exam for you.
For a more comprehensive understanding, you can read the mentioned blog comparing IELTS and TOEFL, which provides additional insights into these widely recognized entrance exams.
If you encounter any difficulties or require assistance, please don't hesitate to reach out to us. We are here to help and would be delighted to address any queries or comments you may have.